We're blessed to live in a time when apps help take away some of the usual stress that goes along with planning a trip as well as being on the road itself.
Since I began my annual travels, I quickly became obsessed with other travel bloggers' go-to apps travel apps. I discovered many, downloaded several and actually used a few–some of which I still use on a regular basis.
There are countless travel apps out there, but there are at least eight essentials you should have downloaded and ready to go from the time you choose your travel dates.
Okay, listen. As someone who has absolutely no sense of direction, this app has saved my life several times over the first few times I travelled to London by myself. Citymapper allows you to navigate like a local while abroad and show you several route options using the various forms of transportation in that city. 
You can even see in real-time how long each leg of your route is, how long until you get to your next stop, and get notifications when you're approaching your destination. It also gives you live updates on delays and closures. You can even save maps offline and can access the maps for transport services like Tube maps.
Although I've primarily used Citymapper in London, it's not the only city it's operational in. It's available in 39 urban areas across the world including Birmingham, Manchester, Brussels, Paris, Lyon, the Netherlands' Randstad (Amsterdam, Rotterdam, The Hague, and Utrecht), Köln-Düsseldorf-Ruhrgebiet, Hamburg, Berlin, Milan, Rome, Copenhagen, Stockholm, Barcelona, Madrid, Lisbon, St Petersburg, Moscow, Istanbul, Boston, New York, Philadelphia, DC-Baltimore, Chicago, Seattle, the San Francisco Bay Area, Los Angeles, Toronto, Montreal, Vancouver, Mexico City, Sao Paulo, Tokyo, Seoul, Hong Kong, Singapore, Melbourne and Sydney.
On my trip to Havana last year, I made the mistake in thinking that the ubiquitous Google maps would help me navigate the stunning city. Up until a few months ago, data and public WiFi was extremely limited throughout the country, so services like Google Maps don't work.  Instead, I relied on Maps.me.
This very handy app provides users GPS without being connected to the Internet. Once you download the map of your destination ahead of time it provides very accurate and up-to-date information on where bars, restaurants, and attractions are.
During our extended drive to the Viñales countryside, we able to monitor–in real time–our trek as well as see how far away we were from our final destination. Not bad when you have virtually no access to data.
Converting foreign currency in your head and on the spot can be a pain, and sometimes vendors may notice you're a tourist and mark up their prices accordingly.
With the XE Currency app, you can easily convert foreign currency with up-to-date rates. I love that I can automatically convert on my phone–with or without data or WiFi–and compare prices between the city I'm in and the rates at home.
Whether you're at a restaurant, shopping or signing up for a tour, using the app empowers you to know exactly how much you're spending  without worrying whether you're being overcharged.
Okay, so you had every intention to learn some rudimentary German ahead of your trip but just didn't get time to learn basic translations in Duolingo.
Google Translate not only allows you to translate words but also entire sentences and speech in-app.
Just like Citymapper, you can download your language of choice ahead of your trip,  so if you want to speak with the waiter in that Berlin restaurant to confirm if there's an open table, you can do so without worrying about whether you accidentally insulted his mother. 
These two gems are, by far, my two favourite flight apps.
App In The Air allows you to see all your flight information, alerts, boarding pass, hotel and car info all in one place. You can get alerts if your flight is delayed and which gate to go to. It also creates a virtual timeline for you, alerting you when it's time to check-in and when it's time to board. Even when your phone's on airplane mode in-flight, it provides you with map tracking so you can see how far along you are, and when you're expected to land.
If you're going paperless, you can also use App In The Air as a digital boarding pass.
Tripit is the ultimate flight app. Once you email your flight itinerary, car rental and hotel information to Tripit, it pretty much serves as your virtual assistant, providing you with a detailed schedule before you even get to the airport. The app gives you real-time updates such as flight delays, an estimate of how long your layover will be, terminal, and gate location.
Instead of having to rummage through your handbag or carry on for your hotel or car rental info when you land,Tripit logs all of your confirmation receipts, with detailed info on where and what time to pick up your rental car as well as hotel location and check-in details.  
You can also save all of your important information to the app such as emergency contacts and passport details. If you happen to lose your passport, you can quickly start the process of recovery by going to your password-protected profile which includes your travel documents and travel contacts.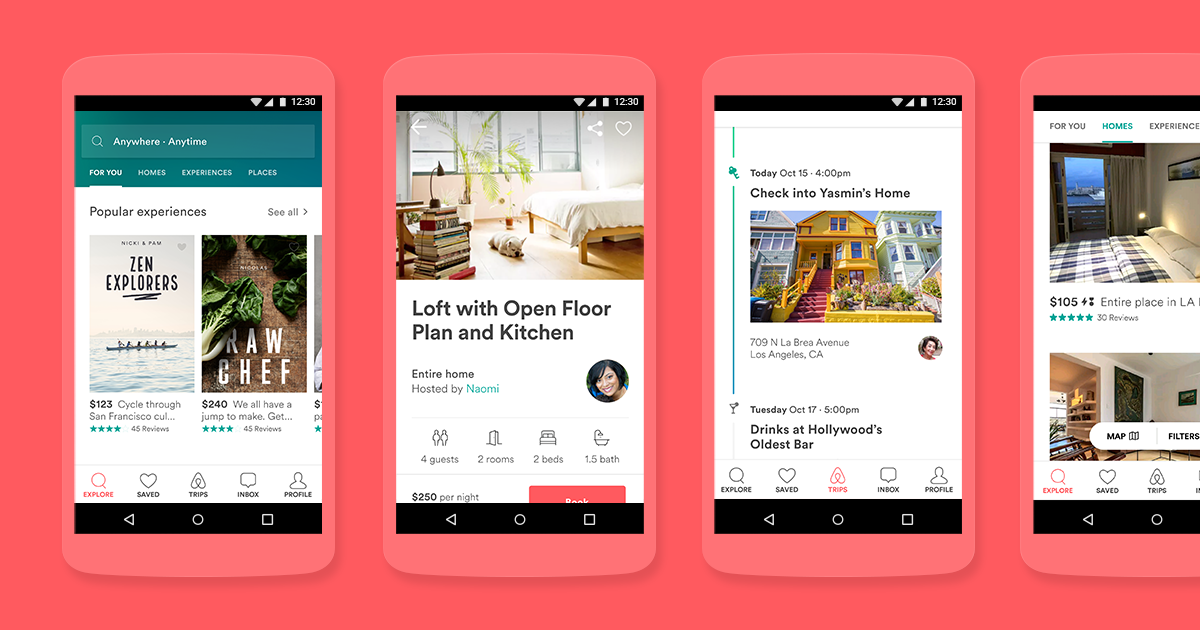 Thanks to Airbnb, I was able to spend a week in this amazing upscale apartment in Catania, Sicily for only US$159.
Airbnb allows you to have a truly authentic and at-home experience where you can rent out someone's space and pretty much live like a local for the duration of your trip. Airbnb is especially perfect you if you're on a budget, and even then, you can still rent some pretty tricked out apartments or homes that are well within your means. 
What's amazing about Airbnb is how much power it gives you, the traveller. Hosts rely on guests to rate and share their experience while staying at their rental, which in turn, helps you to make a more informed decision about where you're staying. Always be on the lookout for Super Hosts, who are named as such because they consistently receive high ratings, providing everything a guest would look out for in accommodations (and then some).
Travelling with a group? No problem. Under the 'Manage Guests' tab, you can share the itinerary with friends and even split the bill, so everyone can see at a glance how much they each have to put up. 



If you're a seasoned traveller, you know that plans can change in an instant. You have to be ready to have Plan B, C, and D at the ready when things don't go according to plan.
The day before I left for a London trip a couple years ago, my best friend told me she had to fly to Italy at the last minute, which meant that I was out of a place to stay. Thankfully, I was able to quickly search and find a hostel quite literally hours before I had to fly without breaking the bank. Can you imagine how much I would have spent if I had to book a hotel at the last minute?
Hostelworld is a godsend if you're in a pinch and need access to last-minute accommodation. While hostels may have gotten a bad rep from the slasher/thriller movie of the same name, most of them are actually quite reputable, and similar to Airbnb, are reliant on user-generated reviews, so you can see at a glance whether you're getting a good deal or not.
Rooms can be shared dorm-style, single or even by gender: some hostels offer female-only accommodations which is perfect for women travelling solo. You can enjoy some pretty stellar accommodations while meeting some amazing people from around the world.
Kayak and Skyscanner are the ultimate proof that you CAN travel affordably. Both apps are similar in that they allow you to compare prices on flights, hotels, and rental cars. You can also set up alerts and monitor prices to determine the best time to book.
With Kayak, you can do a bit more and compare prices for restaurants, cruises, vacation packages, and even get free travel guides.
Skyscanner is essential for finding the cheapest possible flights, including the option to choose the 'cheapest month' to fly if you're super flexible about your travel dates. If you're extra spontaneous, choose 'Everywhere' and it will tell you cheap flight prices to destinations all over the world. Who says travel has to be expensive?
What are your favourite travel apps? Let us know in the comments below.